Specialty Shows at Garfield Farm

Rare Breed Animals | Antique Tools | Heirloom Garden Plants
See calendar for schedule of these shows
Rare Breed Animal Show
Garfield Farm Museum holds its annual rare breeds livestock and poultry show each May. The only show of its type held in Illinois, looks at the loss of genetic diversity amongst domestic animals that humans have depended upon for food, fiber, and work for hundreds of years. For many visitors to the show it is the first and perhaps last time in their lives they might ever see some of these highly endangered breeds.

In today's market, very few breeds are used in modern farms. Those that are tend to have very small gene pools as artificial insemination makes it possible for one prized male animal to father thousands of offspring. This leads to a lack of genetic diversity. Genetic resistance or hardiness to disease might be absent in such a line. A disease could strike that could eliminate such a breed. Breed diversity is not only a novelty, it is a necessity.

In times of economic uncertainty like the one we are in, any threat to our food sources could be disastrous. Should a disease or other factor make the breeds currently used not viable, food would become harder and more expensive to come by. What genetic diversity does is provide the option of a different genetic strain that may not be affected by the same things as the modern commonplace strain. Should the currently used breed be effected the heritage breed may not.

There is also the matter of taste. Many of the currently used animals are used because they can grow to a desired size in a relatively short amount of time. Some older breeds may take longer to reach maturity, but they have a flavor to their meat or eggs that is missing in the genetically narrow market.

Breeders are invited to exhibit their animals at the museum with a chance to meet other breeders and prospective buyers. Pens, water, and bedding are provided by the museum just bring feed and any information, displays, products, demonstrations, or lectures related to the breeds being shown. There are no registration fees for exhibitors. Exhibitors must have appropriate health paperwork on their animals.

In addition to seeing the animals, visitors and exhibitors can tour the 1846 Teamster Inn and Tavern, watch demonstrations of sheep shearing, wool spinning, or enjoy refreshments.
Antique Tool Show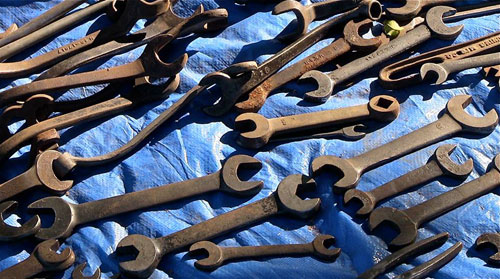 Members of the Early American Industries Association (EAIA) and the Mid-West Tools Collectors Association (M-WTCA) will be holding their annual Antique Tool Show and Sale at the Garfield Farm Museum on Sunday, August 5th from 9am - 1pm. This is the only joint show by these two organizations in the mid-west open to the public. Over 30 different collectors will have their tools on display and for sale.
In the past, skilled craftsmen used specific tools for their livelihood and for their survival. These craftsmen, such as coopers and blacksmiths, were indispensable to their communities, and their work was dependant on their tools. Each piece of equipment was vital and had a specific purpose. As society became more and more mechanized, the need for these craftsman and their tools vanished. By understanding the use of these tools, one can gain an understanding and respect for them.
Many antique tools most people come in contact with are a mystery. They might not know what the tool was used for or even who or how it was used. Not only can the public view, and even buy the tools at the Antique Tool Show and Sale, the collectors have an understanding and experience that they share with the show's guests.
Most tool organizations hold private shows available only to their members. However, Garfield Farm Museum has opened its gates to host the EAIA and M-WTCA's annual Antique Tool Show and Sale in order to give the general public the unique opportunity to see and even buy rare antique tools they might never have seen before. Visitors and novice collectors will find this rare chance to discover the wide variety of collection themes and to learn the value of tools. Many visitors have come to the show with an unknown tool and have left with a wealth of knowledge. Tours of the 1846 teamster inn and tavern begin at 11am and continue after the show until 4pm. Refreshments will be available.
Heirloom Garden Show
Garfield Farm Museum holds its Annual Heirloom Garden Show in August. During the show, visitors can tour the museum's heirloom gardens and interact with Midwestern growers showing off their favorite heirloom flowers, herbs, fruits, and vegetables.

The show highlights the importance of preserving genetic diversity in the very plants that we rely on for food, medicine, and enjoyment. Many of these heirloom fruits and vegetables have unique tastes, cooking traits, appearances, and disease or insect resistance that may not be found in the more common grocery store varieties.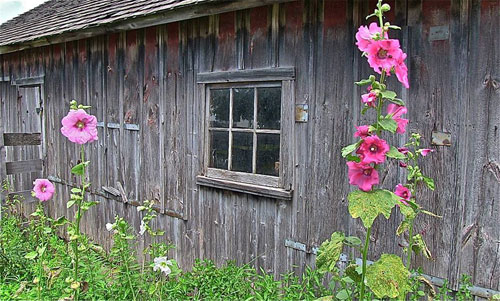 The chance to meet backyard gardeners, many of whom are members of the Seed Savers Exchange (SSE), a nonprofit organization that has connected plant enthusiasts from around the world, is reason enough to attend the show. SSE is a remarkable grass roots effort that began in 1975 and is based out of Decorah, Iowa. Seed Savers receives a portion of the proceeds from the show.

Exhibitors from Illinois, Indiana, and Iowa bring a wide variety of heirlooms. As always for this show, garlic, peppers, and tomatoes are well represented.

Visitors, young and old, can also delight in the museum's own historic gardens. The heirloom flower garden houses many old time favorites, such as, "Love Lies Bleeding" or "Kiss Me Over the Garden Gate" that harken back to simpler times. Hollyhocks, often remembered by those that grew up in the country, bloom in various corners of the barnyard. The heirloom vegetable garden is made up of varieties that the Garfields themselves may have grown including rare pre-blight potatoes. The garden offers children a chance to see where the food they eat originates.

The kitchen garden by the tavern contains herbs and spices as well as some native flowers. Accounts of the time encouraged transplanting prairie flowers to the garden as they were already disappearing from the 1840s landscape. The Pottawatomie Garden Club of St. Charles has provided monetary support for the museum's gardens over the years.