Garfield Farm Museum Founder, Martin E. Johnson, Dies at 95

A gathering of preservationists, friends and family will be held at Garfield Farm Museum on Sunday, October 21, from 1:00 – 4:00 pm.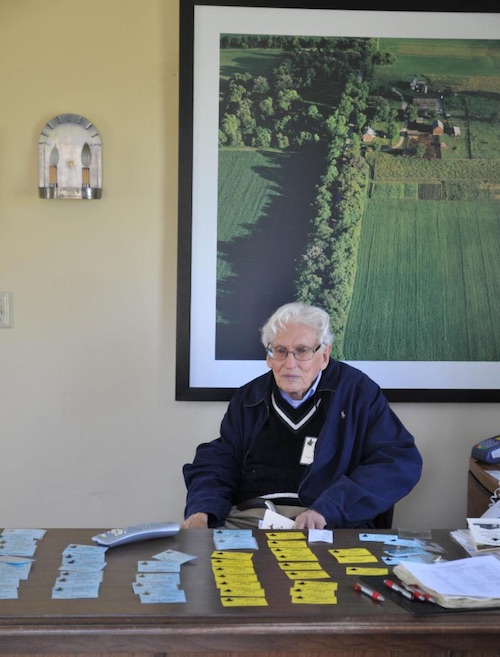 Martin Eugene Johnson, 95, retired Vice President of Finance at Furnas Electric and founder of Garfield Farm Museum died September 11, 2018 at his home in Campton Hills, IL.
Martin's late wife Eve, a volunteer historic preservationist for over 30 years, coaxed him to help with many of her preservation activities. His greatest community contribution was the establishment of Garfield Farm Museum. Martin was the initial significant financial source of support for Eve's efforts to establish and preserve Illinois' only historically intact 366 acre former 1840s prairie farmstead and inn as an 1840s living history museum.
In retirement, he continued as treasurer and board member of the museum's land preservation agency, Campton Historic Agricultural Lands helping expand the museum from 163 to 375 acres. In 2007, he sold a conservation easement on his acreage to Campton Township's Open Space Program, making it possible for the township to reach their minimum 50-acre requirement to establish Harley Woods Open Space, protecting the CHAL's Garfield Harley Pond & Woods. One of his greatest pleasures in later years was walking into the woods with his German shepherds, Tucky and Lucy Belle.
Martin was born on November 3, 1922 to A. Martin and Anna E. Peterson Johnson. His grandfather, Nels Peterson, a dairy farmer, owned the adjacent 200 acres to his parents' 30-acre farmstead in Campton Township. Though surrounded by farms, Martin's father, a 1913 Swedish emigre, chose to be a tractor mechanic in Elburn, IL. Combined with his mother's love of farming and living all but 6 years of his life in Campton, Martin developed a love of the land and a great knowledge of local history that amazed local residents
Attending Wasco School through the 10th grade he graduated from Elburn High School in 1940. Encouraged by his father to attend college, he enrolled in the University of Illinois where he received a degree in electrical engineering. He completed his degree in February 1944 but having enlisted in 1942, he was called to active duty in January of 1944. He served in the Signal Corps and worked on the development of radar. Headed to the west coast for Pacific theatre deployment, the dropping of the atomic bomb spared him from combat and he was discharged in May of 1946.
In June of 1946, he married Evelyn Choice Steinbeck of Kentucky and began a lifelong career at Furnas Electric in Batavia, IL. They built their home on wooded acreage next to his parent's farm. The couple began married life and raised a family in the post war years. In 1962, Martin received his MBA from the University of Chicago's Executive Program. Having worn many hats working at Furnas Electric, he joined the financial department advancing to Vice President of Finance, retiring in 1988.
Involvement in the local community first began volunteering where his grandfather had been a chartered member of Grace Lutheran Church of Lily Lake. He and Eve helped establish the first Cub Scout Pack 150 in Wasco, IL.
Preceding him in death were his wife Eve, his parents, in-laws Jerry M. and Annye Moyers Steinbeck, brother-in-laws Stanford Steinbeck and his wife, Eloise Bragg Steinbeck and Julyn G. Steinbeck and Therese Pobutsky Steinbeck. He is survived by daughter Ceil "Chris" Choice Johnson, son Jerome Martin Johnson and daughter-in-law Ann Brack Johnson, his niece Wanda Marie Steinbeck, and cousin Marvin Oquist of New York.
A gathering of preservationists, friends and family will be held at Garfield Farm Museum on Sunday, October 21 from 1:00 – 4:00 PM. A fund in Martin's name is being established for Garfield Farm Museum Box 403 LaFox, IL 60147. For information, call the museum at 630 584-8485 or email info@garfieldfarm.org